Thought Leadership
Download BPI Network Study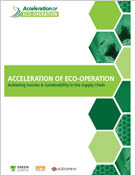 Acceleration of Eco-Operation
Achieving Success and Sustainability in the Supply Chain
The Acceleration of ECO-Operation is a new management mantra aimed at bringing business gain to the value chain through enhanced trading partner visibility, flexibility and new levels of verifiable sustainability across the entire demand and supply ecosystem of global corporations.

The BPI Network conducted in Q2 of 2009 a comprehensive online survey of supply chain, operations, finance, and executive professionals across multiple industries to measure and quantify just how companies are managing the complexities of supply chain demands, distribution costs and environmental concerns. With responses from 125 professionals around the world, the results reveal insights about priorities, progress, and pitfalls that supply chain and finance executives are facing in the midst of more complex and competitive product development environments.

The report examines the results and interpretations of the ECO-Operation online poll combined with detailed insights from more than 20 corporate and faculty leadership committee members that provided perspectives from the front lines and in-depth industry immersion. The report also includes commentary and content covering best practices and viable solutions in helping companies come to grips with how to begin to insert effi cient and environmental practices into strategic supply chain strategies and solutions.