Thought Leadership
Download BPI Network Study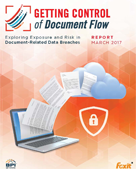 Getting Control of Document Flow
Exploring Exposure and Risk in Document-Related Security Breaches
In today's connected world, information security has become a ubiquitous and vexing challenge. The potential for theft and exposure of confidential documents is major threat to most organizations. In fact, there were 53 million security incidents involving documents in 2016 alone.
Yet while news reports and shocking headlines may lead us to believe that these breaches are perpetrated by sophisticated cyberhackers, the majority of these security incidents stem from accidental leakages by employees that are struggling with document deluge coupled with a lack of proper document security protocol within their companies.
"Getting Control of Document Flow: Exploring Exposure and Risk in Document-Related Security Breaches" is a new study by the Business Performance Innovation (BPI) Network that explores the incidence, prevention practices, and ramifications of document security breaches for organizations of all sizes. The study underscores a glaring lack of effective security practices surrounding the way companies create and share confidential and sensitive documents. The result is that a wide range of high- value, confidential information is routinely at risk in businesses and government agencies today.
Sponsored by Foxit Software, Inc. a global software company and leading innovator of fast, affordable, secure and connected PDF solutions, the study demonstrates that, while documents remain essential to business life, there are still many steps to be taken to ensure the information contained therein is adequately protected.

View full infographic >>