Thought Leadership
Download BPI Network Study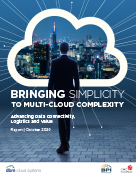 Bringing Simplicity to Multi-Cloud Complexity
Advancing Data Connectivity, Logistics and Value
Chief Data Officers and IT leaders are grappling with a host of challenges as they seek to modernize data infrastructures and locate, unify and leverage data assets. Nonetheless, they are making significant progress in their efforts to realize greater value from growing cloud-based data repositories.
A new report, "Bringing Simplicity to Multi-Cloud Complexity: Advancing Data Connectivity, Logistics and Value," finds that organizations worldwide are struggling to turn growing volumes of structured and unstructured data into readily available decision support for meaningful insights and actions.
The report from the Business Performance Innovation (BPI) Network is based on interviews with nearly 20 CDOs and cloud experts from organizations like NRG Energy, Commerzbank, Morningstar, Thrivent, Etsy, Deloitte, Cognizant, IBM, Pure Storage, TIBCO, Teradata, and QuaXigma.
Opinions reveal most enterprises are still early in their journey, as they work to resolve critical logistical issues and bottlenecks in simplifying and improving the quality, visibility, synchronization, replication and migration of data across hybrid and multi-cloud environments.