Automated Teller Machine
Cloud Computing
Big Data
Containerization
Barcode
ERP
Automated Teller Machine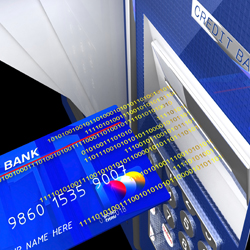 Automated Teller Machine
Since its inception in the 1960's, the Automated Teller Machine, otherwise known as the ATM, has allowed individuals to perform financial transactions quickly and efficiently without the need of a human bank teller. With the advent of online and mobile banking, the ATM has long past the time when it was looked at as a major innovation. But the truth is the ATM greatly impacted how financial institutions are able to go about their business and still is an indispensable part of the business today – the ATM is still used more often than the branch, website, or mobile apps for consumer banking needs (Banking 2020). The advent of the ATM also led to important innovation in hardware, software and security technology, along with mentioned mobile and online banking platforms.
As it turns out, the ATM is not done innovating itself. According to a recent report from ATM Industry Association (ATMIA), there is a lot of exciting advancements and new functionality currently being integrated into the ATM and more coming in the near future. Advancements like solar power, social media capabilities, gift purchases, lottery ticket purchase capability and integration with mobile phones are all innovations being incorporated into the ATM.
Cloud Computing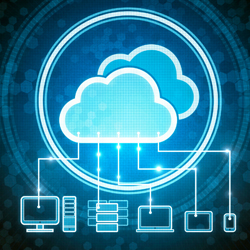 Cloud Computing
Cloud computing, put simply, is the storing and accessing of data and programs over the Internet. Cloud innovation is revolutionizing the enterprise and the roles of the CTO and CIO. In the past, many technical professionals saw the Cloud as a means to cutting costs. However, the cloud has had a great impact on speeding innovation. Hardware provisioning, sys-admin, security, access control, backups, new release installation -- all this administrative overhead diverts resources, and the time needed to innovate more. Cloud computing can enhance continuous delivery cycles with faster startup times and low overhead operating environments.
In the past few years, we have seen cloud truly move beyond hype to a technology that has become embedded and vital to organizations. Business leaders have begun to recognize that the cloud is about more than reducing costs and enhancing efficiencies and can be incorporated into the overall business strategy to spur faster time-to-market and help better orchestrate businesses. According to 451 Research, the cloud computing will reach a market size of $19.5B by 2016.
Big Data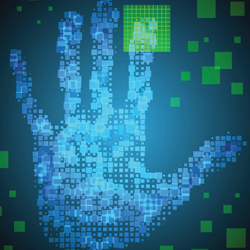 Big Data
The amount of data in the business world has exploded. Analyzing these large data sets has become an extremely important tool to finding new avenues of productivity growth and innovation for organizations. Due to the increasing volume and detail of information captured by enterprises, the rise of multimedia, social media, and the Internet, every industry is now dealing with the implications of big data. Big Data uses analytics to identifying patterns, manage risks and tackle previously unsolvable problems and has been credited with everything from improving business performance to contributing to political campaigns, sporting victories and medical breakthroughs.
One group of individuals that has been greatly affected by the rise of Big Data are marketers. Marketers are overrun with data, but the Big Data revolution has the potential to help them reach and engage with customers and consumers in new ways through data analytics and metrics. Big Data can allow organizations to move beyond basic demographic to target and address the individual - gaining a more complete picture of a target audience can provide insights as to how to engage the customer in innovative ways.
Containerization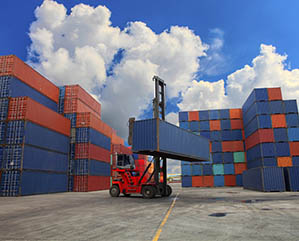 Containerization
The roots of containerization can be traced back to the late 18th century when coal miners in England would use horse-drawn wheeled wagons built with ironwork to carry their loads. Modern containerization is just short of 60 years old and was marked by the innovation of the intermodal container that could be efficiently loaded onto ships from trucks and would hold securely on long sea voyages. The result was a thick corrugated steel box that incorporated a twistlock mechanism atop each of the four corners, allowing the container to be easily secured and lifted using cranes. The patented design introduced the international standardization of shipping containers and in the six decades since its first voyage, 90% of non-bulk cargo worldwide is moved by containers stacked on transport ships.
Containerization and the ability to have one container, with the same cargo, transported with minimum interruption via ships, trucks and trains simplified the whole logistical process of shipping and has been one of the most important innovations in transportation and international trade. Containerization was able to dramatically reduce the expense of international trade, while at the same time, increasing its speed and efficiency.
Barcode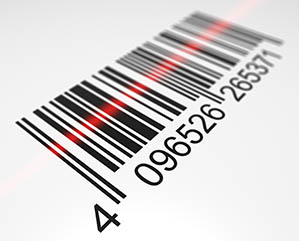 Barcode
The first barcode patent was handed out in 1952. But it wasn't until 1974 when a pack of gum was purchased at Marsh's Supermarket in Troy, Ohio that the first Universal Product Code (UPC) that we recognized from our trips to the market today was actually put into use. Between those events, barcode technology was used in a variety of industries – from railcar identification to post office vehicle tracking. After a few years of growing pains, the use of barcodes for UPCs became wildly successful. Within 6 years, 8,000 stores per year were converting to the system. Barcode scanning offered stores many benefits, not the least of which was the detailed sales information acquired by the new systems allowing for greater responsiveness to customer needs. Stores saw a 10–12% increase in sales and a 1–2% decrease in operating cost. In total, it was shown in the that the return on investment for a barcode scanner was 41.5%.
The introduction of the barcode also laid the groundwork for the use of Big Data, targeting and identification that retailers are now able use to provide a greater understanding of individual consumer shopping patterns. It is an area that continues to innovate and is consistently being incorporated into new technologies such as mobile and social.
Beyond retail, you can find barcodes being put to use in many different environments including; healthcare and hospital settings, wildlife tracking, mail, ticketing, etc.
ERP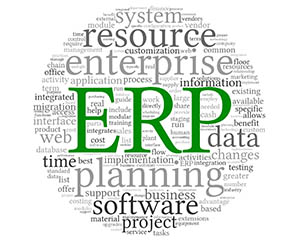 ERP
Enterprise resource planning (ERP) is business management software that allows an organization to manage and integrate all facets of an operation, including product planning, HR, development, manufacturing processes, sales and marketing into one solution to streamline processes and information across the entire organization.
Gartner came up with the term ERP in 1990. But the idea of ERP has been around for over 50 years when software engineers created programs to monitor inventory, reconcile balances, and report on status. The solution evolved over the decades to encompass more manufacturing processes and eventually expanded to back-office functions like accounting and human resources.
The ERP solutions of today have evolved to include business intelligence while also handling "front-office" functions such as sales automation, marketing automation and ecommerce. ERP systems are used by a broad range of industries—from wholesale distribution to ecommerce. With an ERP solution, employees have access to accurate information that enables them to make better decisions faster. Not only that, but ERP software helps to eliminate redundant processes and systems, dramatically lowering the cost of doing business overall.